Overnight No-Cook Refrigerator Oatmeal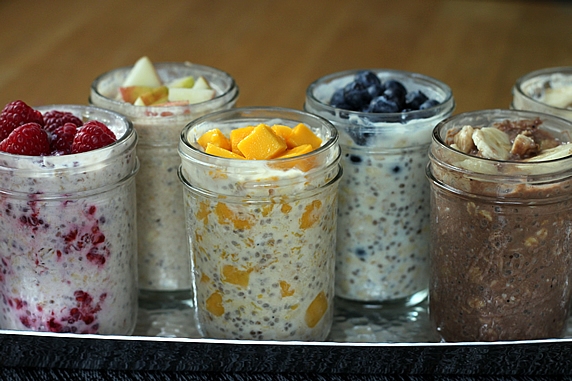 I first saw this recipe posted on Pinterest, so of course I pinned it, and then, of course, I never did anything with it. That seems to be the way I use Pinterest most of the time. I get on there to find a recipe and get distracted pinning and totally forget what I was on there for in the first place. Someone sent the link out to one of the email lists I'm on, reminding me of it, and last night I actually remembered to make it before I went to bed. I tried it this morning, and it was fabulous! I think I'll pretty much be doing this all the time now. Below is the link to the original recipe from The Yummy Life blog. I think I need to spend some more time at that blog, too, if this is any indication of the kinds of recipes we can expect. Below the link I'll put in how I made mine, because, true to form, I didn't do it quite like the original. Well, the original link gives lots of variations, and I just did my own that wasn't on her list.
http://www.theyummylife.com/blog/2012/03/293/Overnight%2C+No-Cook+Refrigerator+Oatmeal+--+A+healthy+breakfast+made+in+mason+jars+in+six+different+flavors%21
I was a little confused at first trying to follow her recipe amounts, because in her pictures, she clearly is using a pint-size jar, but I realized when I was half through measuring out the ingredients, that the amounts she had put in the recipes was only enough to fill a 1/2 pint (1 Cup) jar. I wanted the larger amount, so I went back a doubled the ingredients. I didn't have any Greek yogurt on hand, so I just used more milk, and it was fine. I think I prefer it without the added sourness, but that, of course, is a personal preference. Here's what I did:
Strawberry Maple Oatmeal in a Jar
In a pint jar, put the following:
1/2 C. regular or quick oats (dry)
1 C. almond milk (when I buy it, I always dilute it 1/2 and 1/2 with water)
1 T. chia seeds
1/2 t. vanilla
1 T. maple syrup
Put the lid on the jar and shake well.
Add enough to cut up strawberries to almost fill the jar and stir them in. Put the lid back on the jar and put in the fridge over night. She says it will last 2 to 4 days in the fridge, but I'm pretty sure mine isn't going to make it past noon today. I think she may be mixing up a bunch of them at once, though, and in that case they might last longer. Enjoy!